Cataract Surgery

---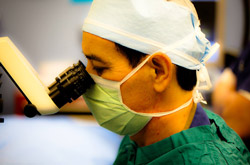 Cataract surgery has existed in this world for over a century, but it is the recent innovations in technology that have transformed this into a very safe and effective surgery. As a patient, it's great to know that the success rate for cataract surgery is high when you are about to undergo surgery. Cataract surgery is actually the most reimbursed medical surgery by Medicare today! Advanced artificial intraocular lenses inserted during Phacoemulsifaction have allowed cataract patients to recover more youthful eyesight. Instead of dealing with glasses after surgery some patients may have the choice to upgrade to a new premium type of lens that will enable vision at multiple distances. In addition to the new lens implants available, less invasive surgery techniques have come to fruition to enable much faster healing. Despite the effectiveness of the cataract surgery the preparation process may take weeks and various decisions will need to be made. If you are seeking San Diego cataract surgery please be sure to review the information below and contact our practice directly. Our staff is ready to help you understand all the aspects associated with cataract surgery and how to prepare.
NOTE: Charles Kelman, MD had created the modern style of cataract surgery we use today known as Phacoemulsification in 1967.
Cataract Surgery Choices
Are you seeking a San Diego cataract surgeon?
Once you have decided to have cataract surgery you will have a number of important decisions to make. The first item on the agenda is to select a skilled cataract surgeon. If you are seeking a cataract surgeon in San Diego the eye doctors at The San Diego Eye & Laser Center would be more than happy to be your surgeons of choice. We have the most up to date and modern surgery techniques available to our patients and skilled San Diego cataract surgeon to help ensure a safe procedure. Once you have selected a cataract surgeon it is time to understand what lens implant option will be the best. It's important to discuss your options with a qualified ophthalmologist. Your options will include monofocal lenses, multifocal IOL's or accommodating lens implants.
The Cataract Surgery Process
What happens during cataract surgery?
After the proper anesthesia and numbing of the eye your cataract surgeon will be to small a small incision in your eye about 3mm wide. Modern day cataract surgery is also called micro-surgery because the incision sizes have become so small. Once the incision is made the cataract surgeon will insert a probe to break up the cloudy cataract and then remove the material. A suction tube will remove all of the loose debris and the capsular bag is prepared for the artificial IOL implant. The foldable IOL is then inserted through a tube and then unfolds once in place. Intraocular lenses will have haptics and "lens arms" to hold it in place. With the cataract removed and the IOL in place, light can once again travel unimpeded to the back of the eye and focus on the retina where the image is interpreted and transmitted to the brain. The end result is clear youthful vision.
After cataract surgery?
Patients are typically concerned about the cataract surgery recovery process. Dr. Richard Leung can provide the best quality care and thoroughly explain what you can expect after cataract surgery. Recovery from cataract surgery is generally very quick. Most patients obtain better vision within the first 24 hours of the procedure. Your eye may be sensitive to light and touch. If you have discomfort, your doctor can suggest treatment. After one or two days, any moderate discomfort should disappear.
For a few days after surgery, your doctor may ask you to use eye drops to help healing and decrease the risk of infection. Ask your cataract eye doctor about how to use your eye drops, how often to use them, and what effects they can have. You will need to wear an eye shield or eyeglasses to help protect your eye. Avoid rubbing or pressing on your eye.
In most cases, healing will be complete within eight weeks. Your doctor will schedule exams to check on your progress. Each person heals differently so it is important to discuss the cataract surgery recovery with your eye doctor.
Does insurance cover cataract surgery?
Depending on the type of lens implant that you choose, cataract surgery can be covered by Medicare. There will be an additional cost associated with premium lens implants if you desire an implant that will enable near, far, and intermediate vision. Medicare will cover monofocal lens implants, which only allow for vision correction at one distance not multiple distances.
Choosing Your Cataract Surgeon
Selecting a San Diego cataract surgeon can be difficult if you are not properly educated about cataracts, cataract surgery and advancements in the new technology. We hope that our educational ophthalmology website has provided an easy to understand outlook on the state of cataract surgery. Although cataract surgery is one of the most performed medical procedures it is highly suggested that you carefully select a San Diego cataract surgeon with a base level of experience who is using the latest techniques and technologies.
Choosing Your Lens Implant
Selecting the right implant for your eye is very important for your vision after surgery. Your doctor will take measurements before your surgery to determine how strong your lens is, so an implant with the same strength can be put in during the surgery. If you wear glasses, the implant strength can be adjusted to replace both your lens and your glasses.
Premium Lens Implants Include:
Crystalens, Restor 3, Toric IOL, and The Tecnis multi-focal IOL.
This ophthalmology website page regarding cataract surgery and selecting a San Diego cataract surgeon is intended to highlight aspects of cataract surgery in a summary manner and should not be interpreted as individual legal or medical advice.